Warsaw according to Maria
1. Places to visit :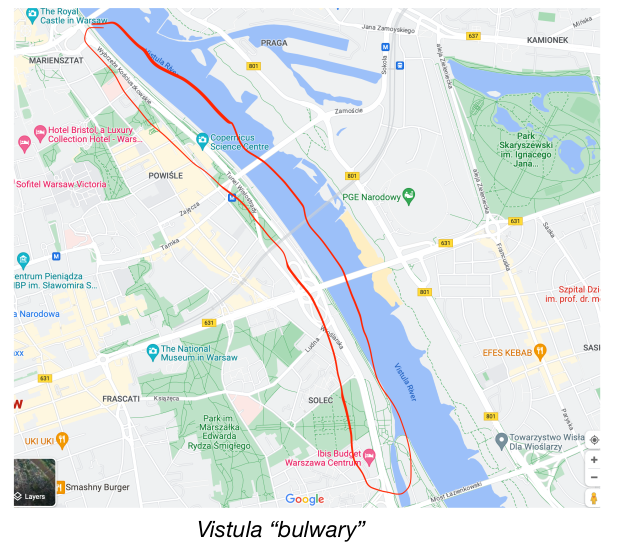 Evenings:
• I would advise doing the walk at the
Vistula river - we call it "bulwary".
During the summer that is the place
where all the people are. There are
great places to grab a drink or pizza. In
the evening you can drink alcohol there,
"in public" - only there in Warsaw!
There are also some dancing parties on
the boats. This is the place to be :) You
can also bring your own drinks and
food (get pizza takeaway) and sit at the
stairs going down to the water, you will
see there hundreds of people. I think it is the with a withcool place you can go in a bigger group of people, you do not need any reservations - the place is unlimited :)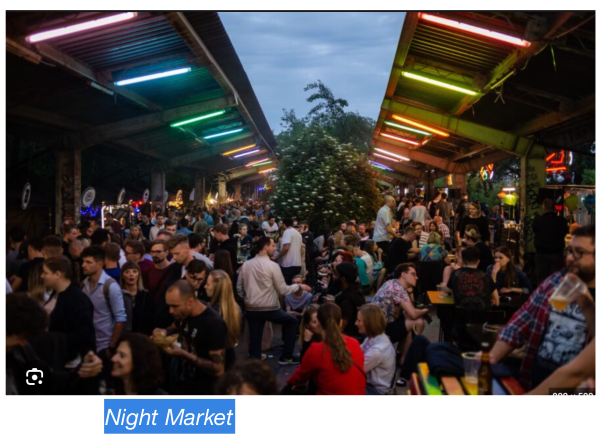 Beers: Nowogrodzka Street, there are many tap bars, with awesome beer. I would recommend
to go to "Drugie dno" they have good food there as well :)
•Nocny Market: (Night market) https://www.facebook.com/nocnymarket/ ;
Place full of food trucks, with a great
variety of food, drinks, snacks, etc. there are often concerts organized. Check before you go, if it is open that day and what is happening there. Also, this place
is good to go in the bigger group, since no table reservations, and open space :)

•Pawilony: This place is a history of the nightlife in Warsaw. Tiny bars one next
to another, in small... "barracks". Each of them has its own style. The climate is unique, very much a so-called"Warsaw" place :) Not much space inside, but still great to visit, even for one beer (shot)! No food. https://pawilonynowyswiat.pl/en/

During the day:
I would recommend a walk starting from "Rondo de Gaulle" so-called roundabout with palm tree https://goo.gl/maps/sWmy8MRHjchz4PYX6 . Walk the Nowy Świat Street which changes to Krakowskie Przedmieście. There are many significant Polish spots, like the sculpture of Kopernik, the President's Palace, the building of the Academy of Art, and the Warsaw University Faculty of Journalism. You end up at the big square with the Castle and old town. It is not really old. Warsaw was completely destroyed so the old town was reconstructed according to some drawings etc. but still, it is a tourist attraction. a Go "down" to the river and direct yourself to the University Library. https://goo.gl/maps/k87MzJpjNBKzurzn9 . This is a MUST-see!!! On the roof you can and wonderful gardens and spectacular views of the city and the river.

Go down to the bank of the river and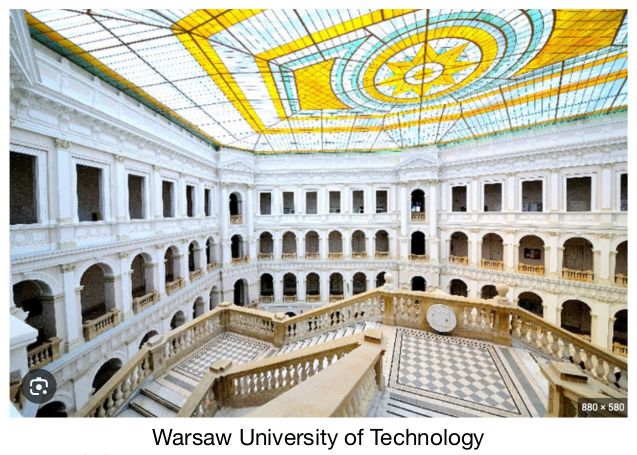 take a walk along the Vistula. Get some
ice cream and snacks at the bars/
restaurants on "bulwary". Another walk you can start from Warsaw University of Technology. The the main building is spectacular.
https://zabytek.pl/pl/obiekty/warszawa-gmach-glowny-politechniki-warszawskiej Very close to WUT you can find the
"Plac Zbawiciela" - with nice co ee
places, beautiful churches, and a great atmosphere :)

If you have time, the Museum of Vodka is great, it is not only about drinking but traditions and the history of the destination in Poland. All my international friends go there with me and they just love it :) It is called an "unusual museum": https://muzeumpolskiejwodki.pl/en/
Łazienki Park - the most beautiful one in Warsaw, have a walk and see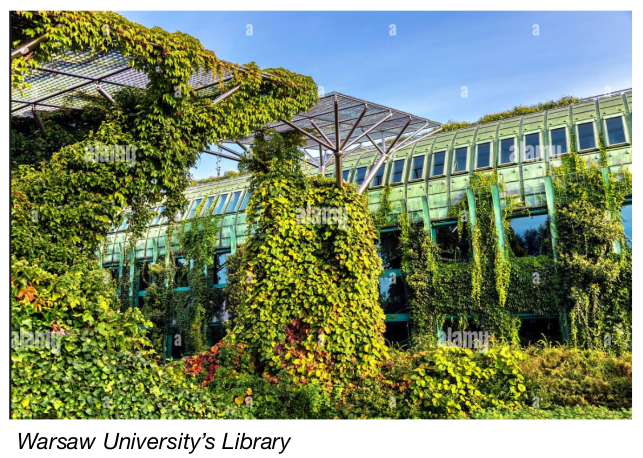 the palace on the water and lots of
peacocks: https://www.lazienki-krolewskie.pl/pl
Other museums you can nd
interesting, but require more time:
1. Museum of Warsaw Uprising
2. POLIN - Museum of the History
of Polish Jews
Both are spectacular and very
moving. Dedicate for the visit at
least 3h.

2. Restaurants and drinks - recommended to book a table!!!
• Industrial, renovated food market: Hala Koszyki - https://koszyki.com/o-hali-koszyki/?lang=en Really great place to visit and eat a whole variety of food - also typical Polish, close to Warsaw University of Technology
• Best pizza place in Warsaw, good drinks https://www.facebook.com/pizzaiolo.krucza/menu/?ref=page_internal .
• https://reginabar.com/ - I love this place, and highly recommend going in the group, ordering different dishes, and sharingand.
• Best ice cream in Europe: Jednorożec https://www.lodyjednorozec.pl/
• Ocho, great natural food, unique place on the back of small theatre: https://www.facebook.com/ochowarsisawa
• Bibenda, delicious natural wines, recommended for a dinner: https://www.bibenda.pl/
• Cuda na kiju, really good pizza, and craft beer, Prosecco, great location, at the Roundabout de Gaull. Sit outside, chill in the sun, and enjoy the Warsawian climate and delicious food - many tables so you do not have to make a reservation: https://www.facebook.com/CudaNaKijuMultitapBar/menu/
Breakfast:
• https://bulkeprzezbibulke.pl/ - In a couple of locations in Warsaw - really good, in the morning there is a promotion for Prosecco ;)
• For a huge breakfast and long chats with your colleagues at Cafe Mozaika, a reservation is MUST! And do that in advance. You can spend there 2-3h. The place is renovated but kept in the climate of the 60-70s. Bu et full of delicious dishes, polish and not only! The bread is just fantastic! https://cafemozaika.pl/
Coffee:
• Ministerstwo Kawy - close to WUT and Plac Zbawiciela.
https://www.facebook.com/MinisterstwoKawy/
• Coffeedesk - many locations in Warsaw
• RelaksCafe - https://relaks.cafe/

3. Other stuff:
- The public transport is great and very cheap.
- It is super hot now in Poland
- You can pay everywhere with a card
- You can drink tap water
- Tap water is sometimes available in restaurants, but not everywhere
- We leave about a 10% tip (better in cash!), but it is not mandatory. Sometimes they include a 10% tip if there are many people at the table.

If you are interested in anything in particular, please let me know: stefaniak.9@osu.edu