How to reach Messina:
By flight: the closest airport is Catania Fontanarossa (CTA). There is a bus connecting the airport to downtown Messina approximately every hour on weekdays, the trip is about 2 hrs long, depending on traffic.
By train: there are fast trains from Rome to Villa San Giovanni (on the other side of the strait). Fast boats bring you from the port (next to the train station) to Messina downtown in about 20 minutes.
How to reach the workshop venue:
The workshop will be hosted at the Physics Department at Polo Papardo. It is about a 30 minutes drive from downtown Messina. Alternatively you can use public transportation (buses number 1 or 24 roughly every 20 minutes), it takes about 45 minutes to S. Agata (ask the driver for "Papardo"), and then a 10 minutes walk. If you come by car, you can park on campus for free.
The workshop is hosted at the "SBA" building shown on the map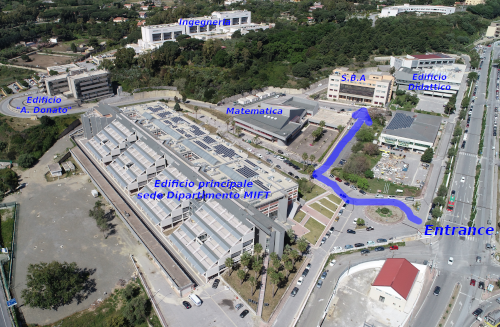 COVID-19 restrictions:
Mandatory proof of vaccination is needed to access the department.
Moreover, Italian regulations also require a proof of vaccination (QR-code) for most of public services (transportation, restaurants, etc.).
Because of restrictions, we cannot provide refreshments during the workshop or have official social events.